Audience Definitions
Attribution Models
Google Ads Linking
User ID
What Does This Answer Mean?
In the default view for Mobile Devices, Mobile Device Info is selected. Mobile Service Provider, OS, brands & resolutions.
there are so many devices that people use. and they come to your site with them.
But you can Choose the primary dimensions to view your different data sets.
you can use this tool.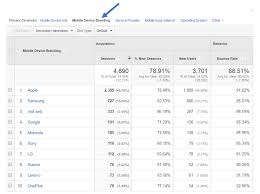 then by seeing what devices are being directed to your site, you can take necessary actions.
ie more people come in with mobile and your site isn't responsive you can hire a developer to make it for you.